Mobile charging stations for businesses and events
DISTRIBUTE BATTEVER
Mobile charging stations for business and events
Need
An operative smartphone is essential in your personal and professional life, and running out of battery can ruin your day.
Solution
Running out of battery will no longer be a problem thanks to Battever!
Support
We help you to create your own Battever business, sharing our expertise and guiding you through all the process.
Plug & Play
In 2 minutes, our charging stations are installed and ready to start working in any business.
Research
We investigate on how to satisfy our customers' needs and develop the best service and products.
Customization
We customize our products for your clientes, obtaining greater impact and promotion.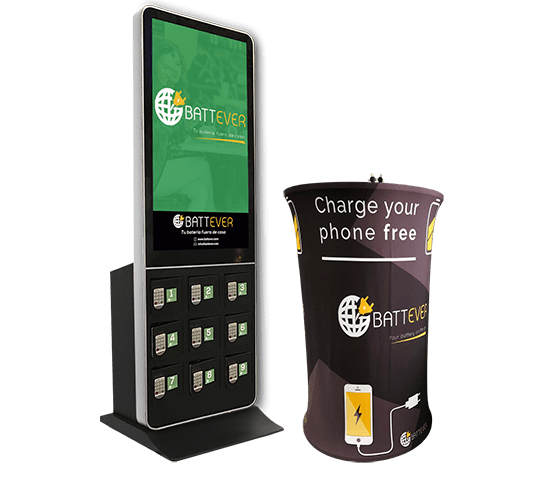 Do you want more information about the distribution?

Low investment
Be part of Battever with little investment
High profitability
Offer a very demanded service that generates brand value and income
Scalability
Expanding your distribution network will not increase the costs, allowing an exponential growth
TAKE ADVANTAGE OF THIS BUSINESS OPPORTUNITY
Do you own a company and want to add our smartphone charging solutions to your product portfolio?
Do you want to become an entrepreneur and want to represent our brand in your country?
International partner
Help us to expand our brand and take the opportunity to create your own business with exclusivity in a new market
Do you want us to call you?
BE PART OF OUR DISTRIBUTION NETWORK
Fill this form and we will contact you
Contact us
Send us an email and we will answer you as soon as possible.
DISTRIBUYE BATTEVER
Las estaciones de carga de móviles para negocios y eventos
¿Quieres que te llamemos?
[contact-form-7 404 "Not Found"]