Mobile phone chargers with UV sterilizers
Mobile charging solutions with built-in ultraviolet sterilization for total disinfection of devices against viruses, spores, fungi, molds and mites.
there are 10 to 30 times more bacteria on your mobile phone than in the toilet?
The Ultraviolet (UV) light from our charging stations is capable of eliminating up to 99% of the viruses and bacteria found in the device.
Charging stations with ultraviolet light disinfection
Thanks to the latest guidelines on the diagnosis and treatment of the new coronavirus published, we know that the virus is sensitive to ultraviolet light and heat, so ultraviolet radiation can effectively eliminate it.
Interior spaces must be disinfected with ultraviolet lightwith an intensity of more than 1.5 watts per m2. An ultraviolet lamp can disinfect objects within one meter for at least half an hour.
Our chargers use a powerful and safe ultraviolet light to disinfect devices in the vicinity.
As we well know, mobile phones are devices that contain a large amount of germs to which we are exposed every day. At present, and more with the unfortunate events that are happening, we are more aware of the importance of hygiene to prevent the spread of any infectious disease. The mobile chargers with built-in UV sterilizers, allow a total and safe decontamination of the devices against viruses, bacteria and fungi.
It attracts and builds customer loyalty by offering two essential services to the public that cover both health and cargo needs.
Digital display with disinfectant mobile charge: Board PRO-UV
Charger box with ultraviolet disinfectant light.
21.5-inch HD screen.
Android OS.
Includes 3 charging cables (Apple lightning, Micro USB and Type C)
Floor or wall installation.
Complete product customization in vinyl, image and video

.
Locker with sterilizingcharge compartments: Cell-8 PRO-UV
8 charging compartments with stylish UV light for the devices.
It integrates a 2.4A fast charge service.
Security system with digital PIN lock.
Each box contains a reinforced 3-in-1 cable (Apple lightning, MicroUSB and USB type C).
The last two compartments are larger and designed for iPad and tablets.
Customizable with vinyl.
Sterilizer Charging Locker with Screen: Mini-Cell PRO-UV
UV disinfectant light in each of the charge boxes.
14-inch HD screen with Android operating system
It features fast charging of 2.4 A devices.
Digital PIN security lock system.
Integrates 8 reinforced 3-in-1 cables (Apple lightning, MicroUSB and USB type C) The last two designed for iPads and tablets.
Customization with vinyl and video.
Add one of our hand sanitizers to our products:
Washing your hands

5 times a day

reduces the chance of

spreading disease by up to 50%.
Especially if you make high use of your mobile phone.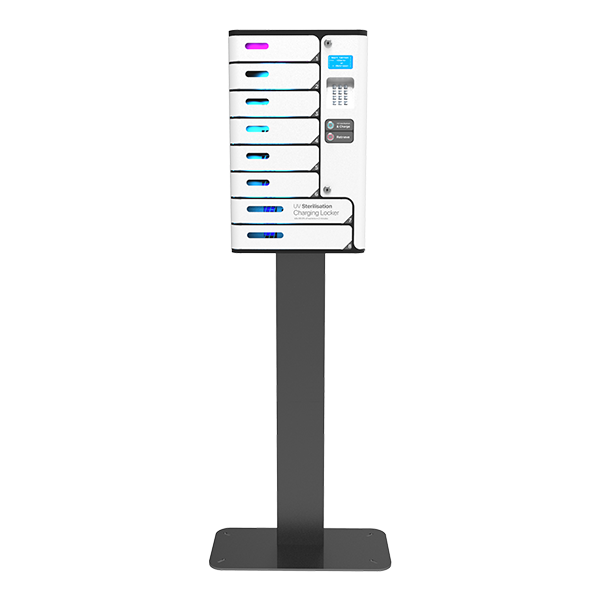 Would you like to receive purchase or rental prices for the Ultraviolet Sterilization Mobile Chargers?
What advantages do our loading solutions offer?
The Ultraviolet light is capable of eliminating up to 99% of the viruses and bacteria in the device.
Reduce the sources of infection while offering a free mobile charging service!
All our mobile phone chargers can be customized with the image of the brand or the establishment.
Contact us and we will be happy to help you with a custom design!
The lockers and stations with charge compartments have a built-in anti-theft security system by means of mechanical locks or digital code. Your devices will be completely safe with our products!
These are ideal products for…
Hospitality sector
Establishments and spaces open to the public such as hotels, restaurants and cafeterias
Medical Centers
Charging and hygiene care service for waiting rooms in clinics, hospitals and other medical centres.
Educational Centers
It covers a need for safe loading for students and teaching staff in academies, libraries, study rooms and other educational institutions.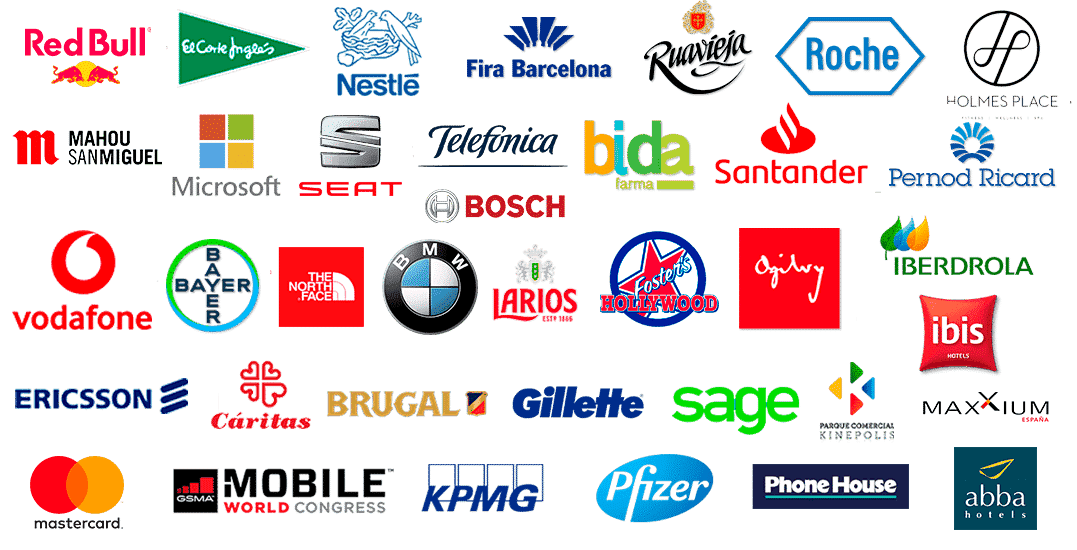 What would happen if any of the parts deteriorated?
We have a high commitment to always offer high quality components. Even so, all our products have a guarantee of up to 24 months. We also provide an after-sales service to reposition cables and parts within 24 to 48 hours.
Are the chargers compatible with all mobile devices?
They are compatible with 95% of the mobiles currently on the market (Android, iPhone and Type C).
How can I enter advertising on the screen?
The products have an integrated operating system (Android OS) to enter and control the advertising that appears on the screen.
Do the products require complex installation?
Not at all, they are really easy to install. Only by plugging it into a wall outlet will the product be operational.
Can customers remove the cables from the load compartments?
The cables are fitted with an anti-theft system so that no unauthorised person can remove the cables from the compartments.
CONTACT US
We want to hear from you. Contact us and we will inform you about everything you need!
Battever is a startup formed in 2015 by young entrepreneurs with the aim of solving one of the great problems of the new society of the 21st century: low battery.
Obtain greater benefits by creating a network of distribution of Battever points in your area of operation with exclusivity. It's time to get started with very competitive products.
Our brand is expanding beyond our borders. It is creating a distribution network in new markets, undertaking with an innovative and constantly growing business.