CHARGING STATIONS FOR MOBILE PHONES
CHOOSE YOURS
Ideal for restaurants, cafes, events, sports centres and shopping centres.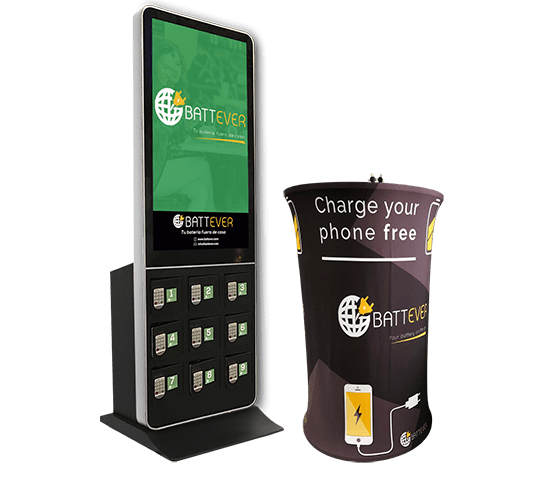 Do you want to know the prices of
the charging stations?
OFFER A MOBILE CHARGING SERVICE TO YOUR CLIENTS
Choose your charger
Choose the charging station that suits you better.
Customization
Send your customized design or send your logo and we will create a design based on it.
Quick delivery
We deliver your shipment quickly so you can receive it in 3-5 days.
Easy installation
Plug-and-charge, quick installation that can be done in just two minutes.
MOBILE CHARGING DEVICES
Why are they becoming so popular?
Our portfolio offers a great variety of charging stations as society revolves around smartphones. Almost everyday situation requires a mobile phone and this intensive use affects the battery duration.
Sports events, business meetings, music festivals, etc, are scenarios where having access to a charging station is a very valuable service. It gives to the attendants the peace of mind of knowing that they are not going to run out of battery.
Furthermore, if by any circumstance, attendants cannot bring their phone inside the event, our charging lockers are especially useful so they can leave their phone in a safe place and collect it fully charged once the event has finished.
CONTACT US
We want to hear from you. Contact us and we will inform you about everything you need!
Battever is a startup formed in 2015 by young entrepreneurs with the aim of solving one of the great problems of the new society of the 21st century: low battery.
Obtain greater benefits by creating a network of distribution of Battever points in your area of operation with exclusivity. It's time to get started with very competitive products.
Our brand is expanding beyond our borders. It is creating a distribution network in new markets, undertaking with an innovative and constantly growing business.