Portable batteries for charging mobile devices
Offer a value-added table service with our portable charging stations!
Portable chargers are the perfect solution for providing a charging service to customers in bars, restaurants, hotels, waiting rooms or other similar businesses.
The portable charging stations can be used both as an advertising medium and as a menu card. And all this, while customers enjoy a service that covers the need for mobile charging!
Our portable batteries: Portamenús, multiple charger, portable charger with screen, charging tray…
Battery with menu: Battever Slim
It stands out for its lightness and thanks to its customizable area, it is perfect as a menu holder.
It has 4 USB ports with3-in-1 cables (Android, Apple and Type C)
It allows the charging of up to 4 devices at the same time.
Customization with paper for static promotional advertising.
Multiple charging solution: Battever Six-Pack
This charging station with 6 built-in Powerbanks allows the customer to freely use their mobile device around the store, while waiting for the battery to be fully charged.
It charges up to 6 devices at a time and has 8 USB cables compatible with the vast majority of mobile devices on the market.
The design allows for complete customization with vinyl.
Charger with advertising: Battever Dual-Tablet
The customer can enjoy a free charging service while interacting with the integrated touch screen.
Charges up to 4 devices at once and integrates 2 3-in-1 cables (Android, Apple and Type C).
The 7″ HD screen plays both image and video. It is therefore an ideal way to create dynamic advertising with digital signage.
Mobile phone charger with menu: Battever Tent
Characterized by being a lightweight product with a large customizable area for advertising or menu items.
It has 2 built-in 3-in-1 retractable cables to charge up to 2 devices simultaneously.
Ideal for static advertising for promotions as it has a paper-based personalization.
Batteries with charging tray: Battever Pack Slim
Pack of 4 Battever Slim with charger tray for easier recharging of the charging batteries.
Includes 8 3-in-1 cables compatible with Android, Apple and Type C mobile devices
It can be used both as a portable charger with menu card or for static promotional advertising.
Battery charger and menu holder: Battever Classic
It has a robust and resistant design, with an elegant wood color and a wide customizable area.
Allows up to 4 devices to be charged at once with 2 USB ports and 2 built-in 3-in-1 cables
Your customers can view the menu menu or promotions through static advertising. And all of this, while enjoying a free charging service!
Personalize the design of the device with your brand!
Due to the large surface area provided by the charging batteries for customization, it becomes a valuable marketing tool that allows brand actions and promotions related to the establishment.
We want to help you with the design, contact us and we will be happy to send you free visual art!
What are the advantages of our mobile phone batteries or desktop chargers?
As it is an innovative service you will be bringing modernity to your establishment.
In addition, customers increasingly value customer-focused technology.
Our portable products are prepared to offer a fast and safe charge, being adapted to the maximum that can support the mobile devices.
We provide an after-sales service within 24 to 48 hours for the repositioning of cables or for any damage or deteriorated parts.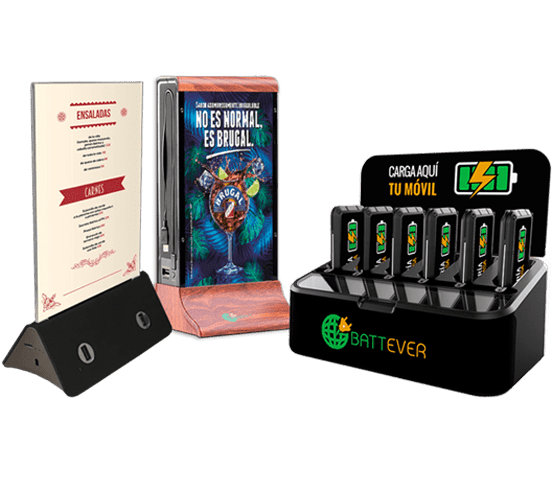 Do you want to know the prices of portable charging batteries?
Our Fixed charging stations are ideal for…
Hospitality sector
Bars and restaurants for customers to charge their mobile phones at the table.
Hotels
So that no guest runs out of battery while on the road.
Waiting rooms
Make the customer's wait more enjoyable by being able to use their mobile without fear of running out of battery.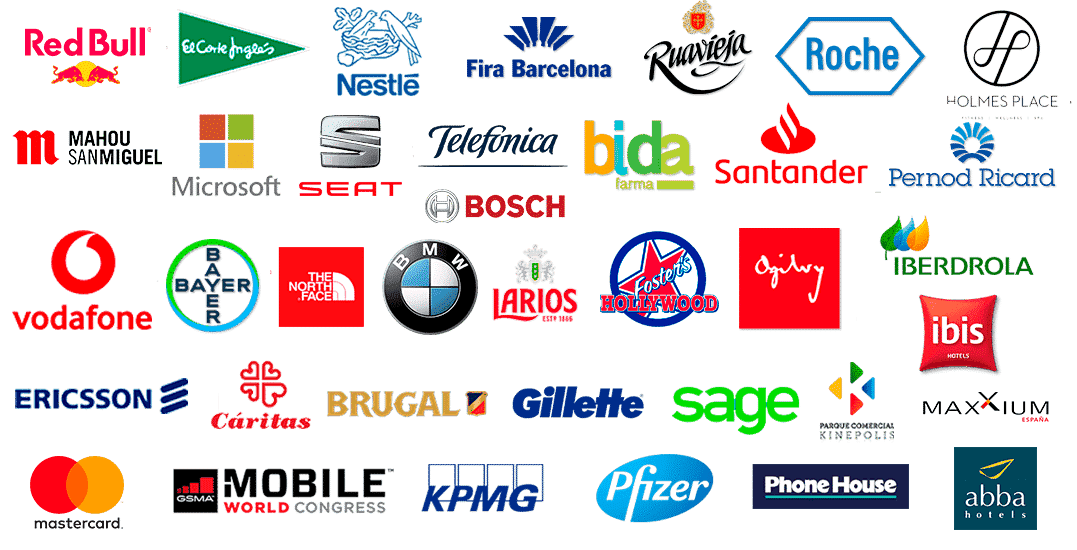 Can portable chargers be easily stolen?
No, since the charger will be located in a safe place and, in the case of bringing the product to the table, the waiter will have control of who has it at all times. Another solution we offer is to ask for an identification card like the ID-card to whoever wants to charge their mobile.
How do I know when to charge the product?
The LED indicators show the battery status of the charger at all times.
Is it water and splash resistant?
The design is prepared to be splash-proof and the cables are reinforced to withstand these eventualities. Likewise, we do not recommend the exposure of liquids for a correct use and proper preservation of the product.
CONTACT US
We want to hear from you. Contact us and we will inform you about everything you need!
Battever is a startup formed in 2015 by young entrepreneurs with the aim of solving one of the great problems of the new society of the 21st century: low battery.
Obtain greater benefits by creating a network of distribution of Battever points in your area of operation with exclusivity. It's time to get started with very competitive products.
Our brand is expanding beyond our borders. It is creating a distribution network in new markets, undertaking with an innovative and constantly growing business.