SMARTPHONE CHARGING STATIONS FOR RESTAURANTS, BARS, PUBS…
Portable mobile chargers with customized image
Smartphone charging stations for restaurants, bars, pubs…
Portable chargers with customized design
PORTABLE CHARGERS FOR BARS AND RESTAURANTS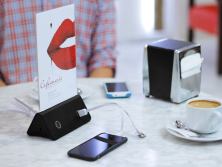 10000 mAh capacity
3 in 1 cables – iPhone, Type-C and microUSB
Static advertisement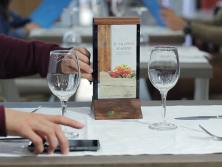 20800 mAh capacity
Integrated iPhone, Type-C and microUSB cable
Static advertisement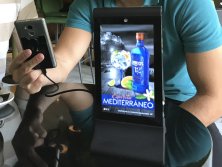 20800 mAh capacity
Integrated iPhone, Type-C and microUSB cable
7″ LCD screen for dynamic ads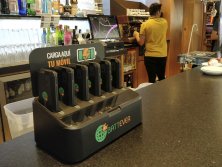 5000 mAh x 6 capacity
9 cables including iPhone, Type-C and microUSB
Six-Pack platform: charge your 6 powerbanks at the same time
WITH BATTEVER YOU WILL GET…
New customers
Friends of current customers will tag along when one of them has low battery
Customer loyalty
-Anytime they have low battery, customers will remember that your Bar/Restaurant has chargers for mobile phones
Word of mouth
After seeing this innovative service at work first hand, happy customers will spread the word
Great customer service
Customers will appreciate your service and in turn speak highly of your business
Marketing tool
Add the message you want to convey to your customers through the charging service
Technological image
Bars and Restaurants of the 21st century stand out because of their service and modernity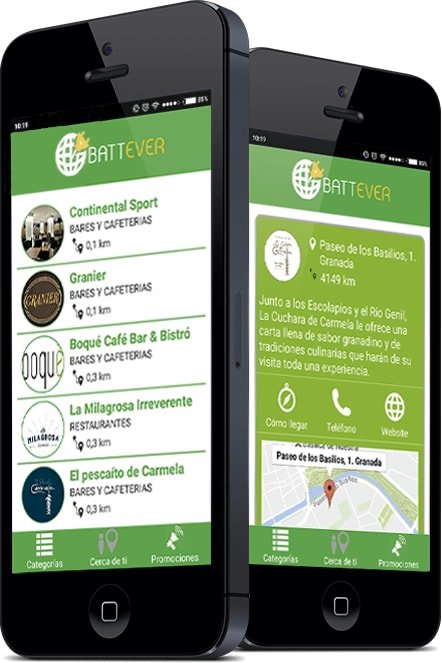 Attract customers with low battery to your business with Battever app.
» Users locate the closest Battever services where they can charge their mobile phone.
» Add a description of your business and discounts to attract customers.
Want to know prices for the restaurant and bar chargers?
WHAT DO WE INCLUDE WITH THE PURCHASE OF THE CHARGERS?
Permanent Promotion in App
Your business will appear in the Battever App so customers can easily locate your place when they need a charge, helping your business to continually attract new clients
Customized design
Chargers will be customized with your logo or design. We make an exclusive design for your bar or restaurant
EXAMPLES OF CUSTOMIZED RESTAURANT CHARGING STATIONS
THEY TRUST US
Do you want us to call you?

How many phones can they charge at the same time?
Each charger can charge four mobile phones simultaneously
How do I add my restaurant to the Battever app once I've bought a product?
You just have to fill out a small form we send you with the information of the location of your bar/restaurant and it will be added to the list of our App for both Android and IOS products and thus be able to attract customers that need to charge their battery. The app also includes a promotion section where you can include any special offers for your customers.
Can I customize the products?
Yes, it is very simple. You can send your logo to info (@) battever.com and, with the purchase of the product, we will send you the customized charger with the logo or design of your establishment. You can also send us an image of your menu / desserts / offers and we will add it to act as a menu holder.
Is it easy for the products to be stolen?
No. Because the charger is usually kept inside the bar or in a safe place, when a customer asks for it, the waiter has to physically carry it to his/her table thus always knowing where the chargers are at all times. Just in case you aren't able to keep track of chargers (for example on the terrace), we recommend you ask for the customers ID or other document when giving them a charger.
How do I charge the actual charger?
Easy! We provide you with a charger for each device, charging base that holds up to 4 Battever Slims, or charging base that allows you to charge up to 3 Battever Classics.
Can you charge all mobile phones?
Our products are able to charge 95% of the phones on the market.
What is the monthly consumption of charging the charger's battery?
If you were to charge the device at full power during all business hours (which is impossible because they stop charging when they reach 100%), the device would consume € 1.60 per month. Obviously, the monthly consumption is much lower, with € 0.20 being an approximate average of the monthly consumption cost.
What happens if it gets wet? Is it water resistant?
The design is splash-proof and the cables are reinforced (although we recommend you not expose them to liquids for optimal use).
How do I know when I should charge the devices?
 LED indicators show the status of the battery.
CONTACT US FOR MORE INFORMATION




Contact us
Send us a message and we will get back to you as soon as possible.
info (@) battever.com