Charging stations for POS systems
Customizable products with mobile charging and dedicated advertising space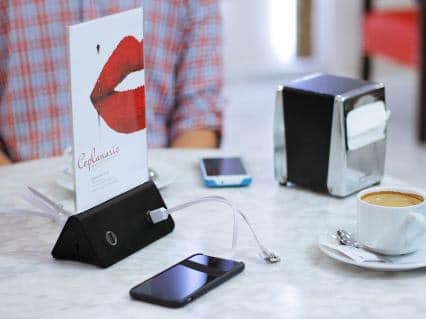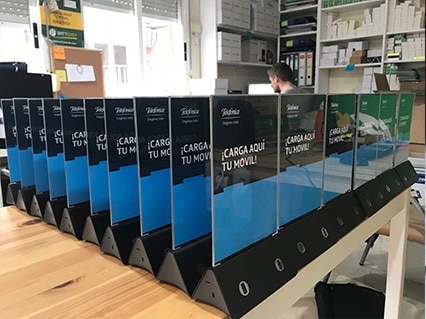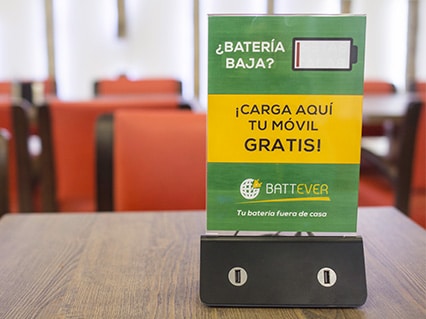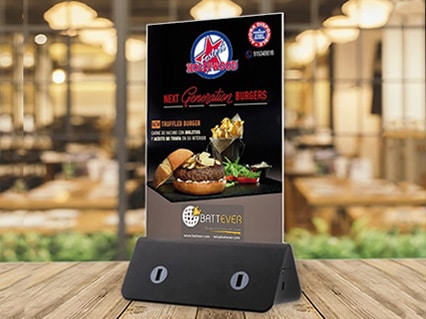 Benefits of shippers as an advertising medium
Improve your POS technology with mobile charging stations!
Running out of battery while shopping is more common than we would like. And increasingly, mobile phone use is becoming more important in the purchasing process.
For this reason, offering a free mobile charging service is perceived as having great added value by users. In short, it is an excellent way to captivate and cause a first contact with the client.
Increases the time of the advertising impact
The user, while waiting for the battery of his mobile phone to be fully charged, spends more time shopping in the shop.
This generates a greater opportunity for the visual impact of the promotion and, because of the free loading service received, the customer is more predisposed to interact with this promotional action.
Higher probability of achieving the sales target
The feeling of gratitude, which is generated in the user when receiving a free mobile charging service, produces good brand recall and a higher probability of conversion to a potential customer.
And because it's such a novel service, you'll be setting yourself apart from the competitors!
Customize our POS chargers with your brand image or logo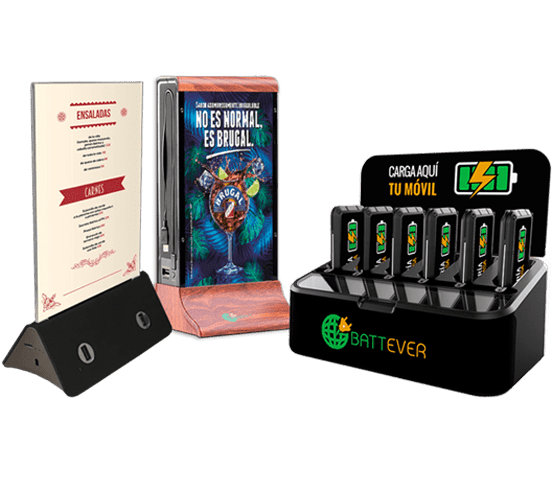 Do you want to know the prices of the POS charging stations?
Why choose Battever to enhance your Point-of-Sale advertising?
Our products have a modern and innovative design, focused on providing a striking aesthetic to the environment that integrates it.
Also, to provide greater security to the product, these include USB cables with an integrated anti-theft system and security locks on the lockers or charging compartments, by means of mechanical or electronic locks
All our products focused on point of sale advertising are fully customizable. If you wish, we can send you for free a visual artwork with the logo or image that you would like to appear.
Contact us and we will be happy to send you a custom design!
Our stations offer a fast charging service adapted to the maximum charge supported by any mobile phone.
Also, all our chargers are compatible with most mobile phones on the market.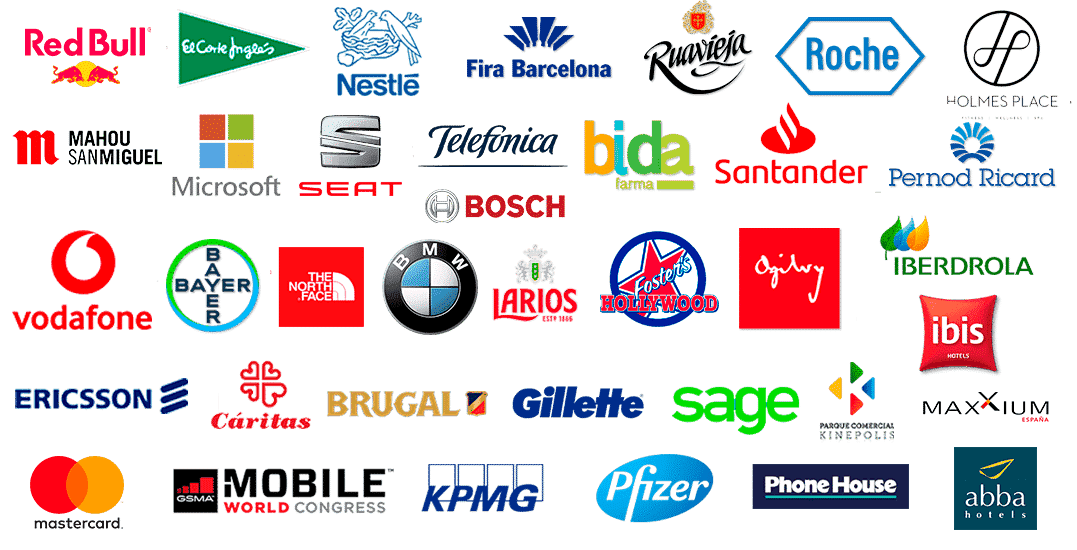 Is there a rental option for the charging stations?
Yes, contact us using a form and we will inform you more about rental prices.
Is the assembly and installation complex?
No, it's very simple. All our portable charging products do not require prior installation. And in the case of charging lockers or fixed stations, just plug the product into an outlet and it's ready to use.
Will the charging stations take up too much space?
We offer a wide range of mobile phone chargers with different features and sizes. We're sure that some option will fit your needs.
CONTACT US
We want to hear from you. Contact us and we will inform you about everything you need!
Battever is a startup formed in 2015 by young entrepreneurs with the aim of solving one of the great problems of the new society of the 21st century: low battery.
Obtain greater benefits by creating a network of distribution of Battever points in your area of operation with exclusivity. It's time to get started with very competitive products.
Our brand is expanding beyond our borders. It is creating a distribution network in new markets, undertaking with an innovative and constantly growing business.